During a survey of members back in 2010, one word surfaced as the primary characteristic of UBF.

That word is: Korean. The promise offered to students by UBF is that the group will train you to become a Christian missionary. This is only true if you are Korean. If you are Canadian or American or Russian or German, then you are not part of this missionary program. You are merely part of the support network that moves Koreans around the world from university to university. In fact, most of the time, UBF refers to these Koreans as workers, not missionaries. This is more accurate–they are indeed UBF workers and not Christian missionaries. They carry the primary purpose of establishing UBFism activities, and not the primary purpose of Christian compassion and charity work.
The group has sent over 2,000 Koreans but how many non-Koreans? The number is not well documented, but I would estimate that less than 10 non-Koreans have actually been sent out as missionaries by the group the past 60 years. These non-Koreans are in special circumstances, such as the husband of the woman who committed suicide in Chicago. Yes, he is not a Korean and yes he was sent as a UBF worker to Russia. He was sent out however, not for Christian mission work, but as a kind of therapy for him and his family.
Consider the state of missionary training work today, in 2021. 60 years after 1961, what program does UBF have for non-Korean workers? Nothing. Check out the Missionary Education and Training Resources section of the North American UBF headquarters in Chicago. This committee still has the open task of creating materials. They have no program for non-Koreans. The committee openly admits this situation.
"Korea UBF has a well-established program for this purpose but HQ does not."
–UBF Missionary Education and Training Committee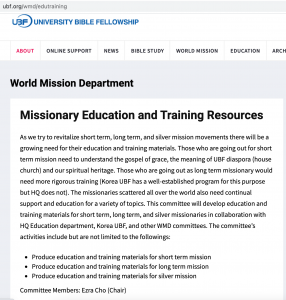 So if you joined UBF thinking they would train you as a Christian missionary, you are misguided on both accounts. UBF will only send Koreans and they send workers to setup UBFism, not missionaries to preach the Christian gospel. Look under all that holy paint, and you will see a cult.